Tanzania! With thanks to Ethiopian Airlines!
Travel to the vast Tarangire National Park
and the highest peak in Africa, Mount Kilimanjaro.

These programs played on educational channels throughout the United States. Also, theaters. Now, the programs appear on YouTube / VideoAdventures and other internet syndicators.

Airlines, tour companies, hotels, restaurants, and individuals sponsored these TV documentaries.

Companies also contributed. Canon, XA10 video cameras and T4i DSLR. Wasabi Power batteries for the XA10 and T4i DSLR. Manfrotto, tripods and pan/tilt heads. Tascam, audio recorders. Shure, hand-held microphones. SanDisk, 32gB cards. LowePro, load bearing equipment. Insect Shield, clothing. Merrell, boots. Red Bull, energy throughout the world.

See EQUIPMENT for reviews of the cameras, tripods, media in action.


Tarangire National Park and Sopa Lodge
We toured with Simba Safaris of Arusha, Tanzania. Several days of riding through the park. Nights at the Sopa Lodge.

One of the five star resorts in the Serena chain, the Sopa is set in Tanzanian acacia forest. Breakfast buffets, delicatessen lunches, lavish dinners. And a bar for drinkers.

Perfect weather. Many, many elephants seeking the water of the river. Perfect driver and truck. The voice of Lowrance narrates the program.

On one afternoon, elephants surrounded the truck as they walked from the forest to the river. Lowrance was so, so cool. He told us to be quiet, don't move. Many mothers with babies. Unpredictable what a mother elephant would do. We didn't move -- but we could have reached out and touched the elephants.


Climb Kilimanjaro with Nancy Pearlman
We toured Tanzania with Simba Safaris of Arusha, Tanzania. Several days of riding through Tarangire National Park, then to Mount Kilimanjaro.
What a contrast! From the 5 star luxury of Sopa Lodge to the simplicity of the huts on the Marangu trail up Kilimanjaro. Simba Safaris gave us the luxury of huts. Other hikers slept in tents.

In the huts and dining halls, we did have the modern marvel of electric lights, provided by a solar/battery system.

Perfect weather. Days clear, sometimes wind. Even on the summit, only a few passing clouds.

Our trail leader, Silvano Mchuwa, assembled a team of assistants, porters, even a personal cook. These fellows can be seen singing and clowning in the video. They were fun.

They carried everything -- except for our cameras.

Nancy Pearlman amazed the young men. At 65, she went to Uhuru Peak, the summit of Mount Kilimanjaro. We met a man even older, 78, who also went to the summit.

Roger Fielding of Cultural Vacations and Safaris negotiated the details from his office in Orlando, Florida, USA.

And this is important --- absolutely do not go to Moshe, the base town of Kilimanjaro and hire a guide off the street. People die on Kilimanjaro.

Serving as a trail captain requires a college degree and a license. Silvano Mchuwa not only qualified with his degree and extensive knowledge, he had also led 46 climbs before our walk up the mountain. He and his assistants spoke excellent English. A crew of good men followed with our food, backup gear, first aid pack, and high-altitude clothing.

We encountered a group of Japanese tourists led by a guide who did not speak English or Japanese --- and the tourists did not speak Swahili. If one of the foreigners suffered an altitude embolism, how would the foreigner communicate the symptoms? Could the off-the-street guide call in a helicopter medevac in time to save their life?

Dealing with Roger of Cultural Vacations also insures travelers will actually have a team and services ready for them when they arrive in Africa. Credit card information goes to the Cultural Vacations office in Orlando, United States of America. How will a foreigner know they send their credit card number to a legitimate office in Tanzania? Will the charge go to a safari company? Or to an internet cafe in Nigeria?

I videoed Kilimanjaro with a Canon XA10 video camera. I recorded forest sound with a Tascam 40 digital recorder.

I mounted the XA10 on a Manfrotto carbon-fiber tripod -- very light, easy to carry all day.

Wasabi extended life batteries made this video possible. Six days without alternating current? The Wasabi batteries are very inexpensive, a fraction of the cost of Canon batteries.

I went up with four extra batteries for each camera, XA10 and T4i.
Meditation on Mawenzi -- Wind and Stone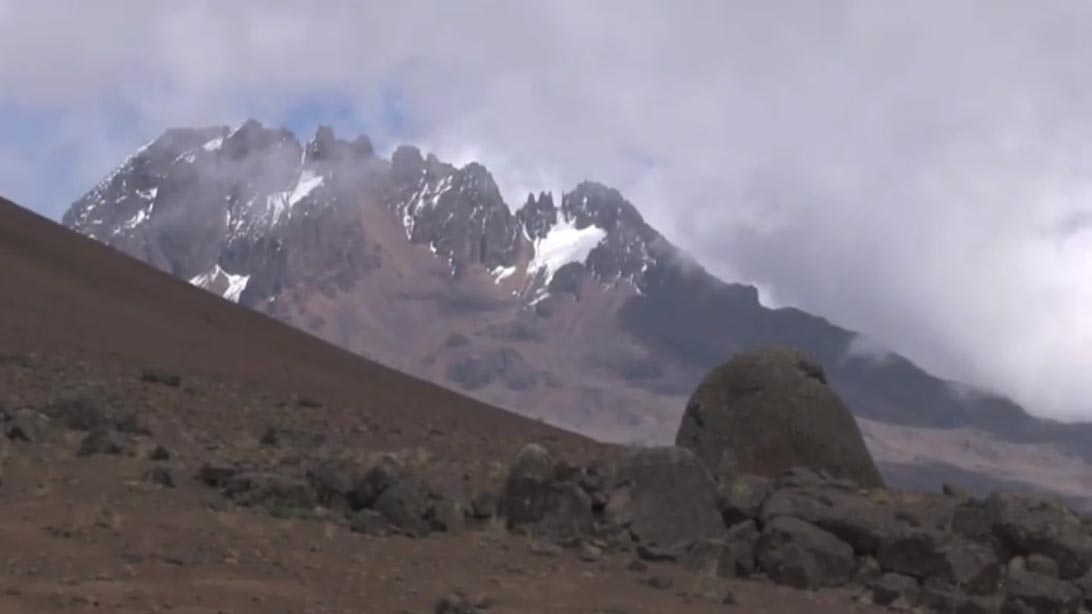 Meditation on Mawenzi -- 15,000 feet / 5,000 meters. High-altitude fatigue.
Day four, at 15,000 feet, I fell. I tried to protect the XA10 with my body, but the camera hit the rocks. No obvious damage to the XA10. On-off. On-off. On, moving the camera, power failed. I checked the seating of the battery. It wobbled. I saw an impact mark on the Wasabi battery. It functioned, but flickered if I moved the camera. I swapped out the battery. No problem. I had extras.

To check the camera, I set the tripod and recorded five minutes of the wind driving clouds past Mount Mawenzi, the second volcanic cone on Kilimanjaro. Mawenzi requires technical equipment to climb.

Wasabi Power sells two extended life batteries and a charger for less than $50. I carried two sets for the XA10 and two for the T4i DSLR. 4 batteries for each camera. Less than $200 in total.

See the Wasabi Power web pages here:

XA10 and T4i DSLR

A note on charging batteries in the hotels of Africa: Independent chargers protect the cameras. Wasabi Power ships Asian adapters with the chargers. Plug a charger straight into the wall. The Canon manual directs the users to charge through their cameras. DO NOT. Third World power surges can burn out a camera.